Quality Assurance
Quality is the best investment we make, all day and every day.
Fraccaro Industries, Inc. Quality Management System.
At Fraccaro we believe in Quality First. Our employees are formally trained in quality expectations and responsibilities as stated in our Quality Policy.
Our philosophy of Quality First is indoctrinated in every internal process, receiving a purchase order to final inspection, through shipping out the final product.
Our philosophy includes thorough documentation, employee training, and shop meetings using employee input to make a better product through improved tooling and reduced set-ups, resulting in streamlined production, with lower incidence levels and escapes.
Our current approvals include:
AS9100 Rev. D third party registration by DEKRA
US Dept of Defense
ISO9002
Department of Homeland Security
ISO 9002
The Boeing Company
D6-82479/ AS9100
Sikorsky Aircraft
S-2000/ASQR-01
Northrop Grumman
ISO9002
Vought
AS9000
Quality Policy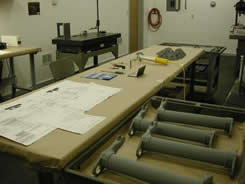 Fraccaro Quality Assurance Testing
The policy of Fraccaro Industries is to ensure complete customer satisfaction through on-time delivery of defect free products and services. Fraccaro Industries, Inc.'s quality systems shall ensure that all products and services provided to our customers meet or exceed all requirements and expectations.
Each employee is responsible for reaching desired requirements the first time by performing every task to it's standards or initiating action to cause formal changes.
Comprehensive documentation governs Fraccaro Industries, Inc. The quality program, procedures, practices, forms, drawings, and similar documentation that affect product quality shall be formally documented and controlled. All such documents are maintained and will be easily accessible.